Immunoglobulin molecules themselves function as potent immunogens when they are introduced into other animal species to induce an antibody response.
For studying the B cell development and humoral immune response, such anti-Ig antibodies are considered to be a powerful tool.
The antigenic determinants are also called epitopes on immunoglobulin molecules.
They are categorized into three major types. They are as follows:
A)Isotype
These determinants are common to or shared by all members of the same animal species (iso: same for each person).
They are constant-region determinants that collectively define each heavy chain class and sub class and each light chain type and subtype within a species.
A separate constant-region gene is responsible for encoding each isotype and the same collection of constant-region genes are carried by all the members of a species.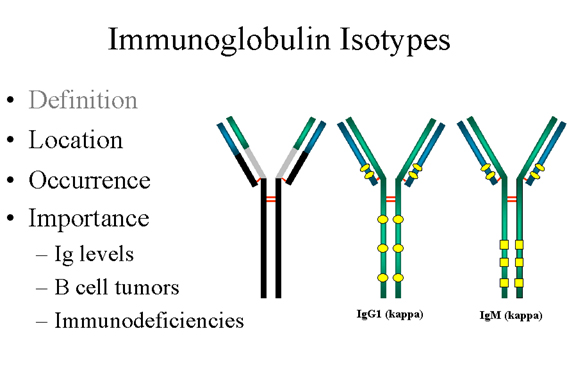 Each normal individual will express all isotypes in the serum if it is within a species.
Different isotypes are expressed by different species as they have different constant-region genes.
For this reason, the antibodies from one species, when injected to other induce an antibody response as the isotypic determinants are considered as foreign by the antibody of other species.
Anti- isotype antibody is being used routinely for research purpose to determine the class or subclass of serum antibody produced during an immune response.
This may be also used to characterize the class of membrane-bound antibody present on B cells.
The isotypic markers on H chains distinguished the different H chain classes, i.e. H(α), H(δ), H(µ) and H( ɛ).
Isotypes (IgA, IgD, IgG, IgM, IgE) are determined by antibodies directed against the Fc portion of the molecule.
B)Allotype
Multiple alleles exist for some of the genes though all members of a species contain the same set of isotypic genes.
These alleles encode subtle amino acid differences which are called allotypic determinants.
These determinants occur in some but not in all members of a species.
Allotype is determined by the sum of the individual allotypic determinants that are displayed by an antibody.
Allotypes have been described in case of human for all four IgG subclasses, for one IgA subclass and for the κ light chain.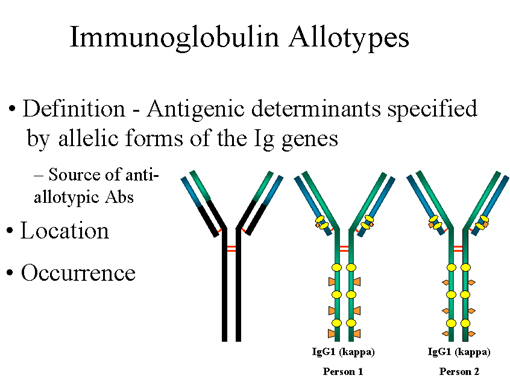 The gamma type allotypes are referred to as Gm markers.
About 25 different Gm allotypes have been identified which are designated by the class and subclass followed by the allele number.
G1m (1), G2m (23), G3m (11), G4m (4a) can be taken as example.
Only the IgA2 subclass has allotypes if we compare two subclasses of IgA i.e. A2m(1) and A2m(2).
There are three allotypes for κ light chain designated as κm(1), κm(2) and κm(3).
Each of these allotypic determinants indicates the differences in one to four amino acids that are encoded by different alleles of the same gene.
Antibody can be produced against the allotypic determinants by injecting antibodies from one member of the species to another member of the same species carrying different allotypic determinants.
Sometime mother during pregnancy also produces antibody to allotypic determinants in response to paternal allotypic determinants on the fetal immunoglobulins.
Antibodies can also be produced, during the blood transfusion, to the allotypic determinants.
C)Idiotype
VH and VL domains of a given antibody consist of unique amino acid sequence which works as antigen binding site.
But sometimes they also work as a set of antigenic determinants.
The sequence of a heavy- and light-chain variable regions lead to the arousal of idiotypic determinants.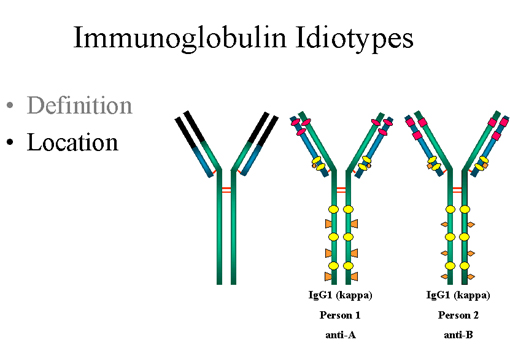 Each individual antigenic determinant of the variable region is known as an idiotope.
Multiple idiotopes are presented by each antibody.
Among them, some of the idiotopes are the actual antigen- binding site and some comprising variable-region sequences outside of binding site.
The sum of the individual iditopes is called the idiotypic of the antibody.
If the antibodies are produced by the individual B cells derived from the same clone having identical variable-region sequences, idiotypes will be of same type.
Anti-idiotype antibody is produced by injecting the antibodies that have minimal variation in their isotypes and allotypes.
Due to the variation in isotypes and the allotypes, the idiotypic difference can be recognized.
Myeloma protein or monoclonal antibody is also used oftenly.
The formation of anti-idiotype antibody to the idiotypic determinants is resulted by the injection of myeloma proteins or monoclonal antibody into a recipient who is genetically identical to the donor.
Antigenic determinants on immunoglobulins